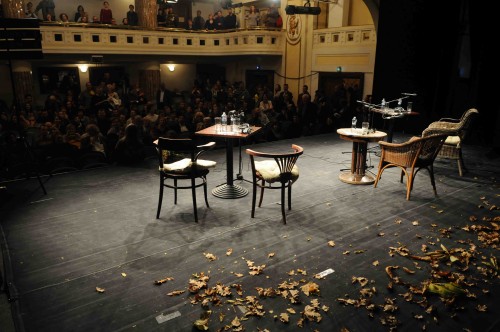 From 15 to 18th November 2012 the Slovak non-profit organisation Projekt Fórum, in conjunction with a number of other Slovak and international institutions, is organizing the fourth Central European Forum, a three-day series of discussions in Bratislava open to the public and featuring an international cast of panellists.
Václav Havel's conviction that truth and love will prevail over lies and hatred, that we must remain faithful to our own values as well as believe in love that upholds the truth of others, are the two key principles without which a pluralist world cannot, in the long run, exist. Central European Forum 2012 will focus on these issues, which seem particularly relevant to Central Europe in the present day and the future in 2012, the year of ominous prophecies.
Under the overall heading of 'Truth and Love' Central European Forum 2012 will discuss the many and varied forms and causes of lies and hatred. Lies become untenable at a time of crisis, as evidenced by the current debt and economic crisis and the crisis in European coherence it has engendered. This is a time when instances of fraud are being uncovered and lies exposed. It is also a time of hatred unleashed by the lies that have been exposed. It seems that the fiercest opponents of lies are further lies, generating more hatred. We will be discussing possible ways of breaking this vicious circle.
THURSDAY 15 November
5:00 pm
Opening: Vladimír Černý, director of the Astorka/Korzo 90 Theatre
Jáchym Topol, programme director of the Václav Havel Library
5:30 pm Panel I: Lies
It is a commonplace that behind the official public institutions of our societies there are other institutions – private, confidential and often top secret: mafias, brotherhoods, mutual back- scratching alliances. Why do they thrive in our part of the world? How do they operate? In what ways do they overlap with official institutions? How do they weaken democracy?
Oksana Zabuzhko (Ukraine), Giacomo di Girolamo (Italy), Tomáš Němeček (Czech Republic), Ilija Trojanow (Germany)
Chair: Martin M. Šimečka (Slovakia)
FRIDAY 16 November
5:00 pm Panel II: Hatred
How is it possible for people living in a civilized country to succumb to sudden bouts of hatred? Is a predisposition to intolerance something shared by countries in this part of Europe? What, if anything, can we learn from the Western experience of multiculturalism and integration of immi- grants?
Vladimir Arsenjević (Serbia), Jens-Martin Eriksen (Denmark),  Andrzej Stasiuk (Poland)
Chair: Chris Keulemans (Netherlands)
6:15 pm Panel III:  Stupidity
On the one hand, ideologies in the 21st century have managed to turn entire nations into mindless cattle, while on the other people now enjoy unprecedented access to information. The digital era is changing the way we think in profound ways. Where will this change lead us?
David Auerbach (USA), Miklós Haraszti (Hungary), Ivan M. Havel (Czech Republic), Drago Jančar (Slovenia)
Chair: Thierry Chervel (Germany)
SATURDAY 17 November
3:30 – 5:30 pm   Panel IV:  Change
What was behind the mass civic protests and demonstrations of the past two years in the East and the West? What were their goals and what have they achieved?
Zygmunt Bauman (United Kingdom/Poland), Juraj Buzalka (Slovakia), Leonidas Donskis (Lithuania), Aitor Tinoco i Girona (Spain), Peter Pomerantsev (United Kingdom/Russia)
Chair: Eszter Babarczy (Hungary)
8:30 pm Panel V:  Experts
We made the mistake of placing our trust in economists and ceding to them some of our intellectual and political responsibility, Václav Havel said in Bratislava in 2009, in reference to the legacy of the Velvet Revolution. What does it mean to "cede the world to economic experts"? Was there any alternative and do we have an alternative today?
Lajos Bokros (Hungary), Pascal Bruckner (France), Robert Menasse (Austria), Adam Michnik (Poland)
Chair: Ulrike Ackermann (Germany)
SUNDAY 18 November
2:30 pm Panel VI:  Fear
Leftist and rightist ideologies in their classic forms no longer work even in Central Europe, where they traditionally wielded immense power. Instead, their new hybrids and aggressive mutations are beginning to hold sway. What words does power use to speak to us?

Radka Denemarková (Czech Republic), Stefan Eibel (Austria), György Konrád (Hungary.
Chair: Jana Cviková (Slovakia)
4:00 pm   Panel VII:  Love
Why do the old feel disrespected by society? What wisdom does old age bring? And how can we overcome our fear of growing old?
Jiřina Šiklová (Czech Republic)
Chair: Svetlana Žuchová (Slovakia)
17:00 Panel VIII:  Protest
Pussy Riot, their appearance in an Orthodox church, the punishment handed down to them, and the unexpected worldwide outrage have revived the broader question of what qualifies as art and what does not. Where does art's political power lie? And what makes art attractive to politics?

Milena Bartlová (Czech Republic), Anna Daučíková (Slovakia), Anna Jermolaewa (Russia), Alison Klayman (USA), Bertrand Ogilvie (France),
Chair: Michal Hvorecký (Slovakia)
Any changes to the programme will be announced