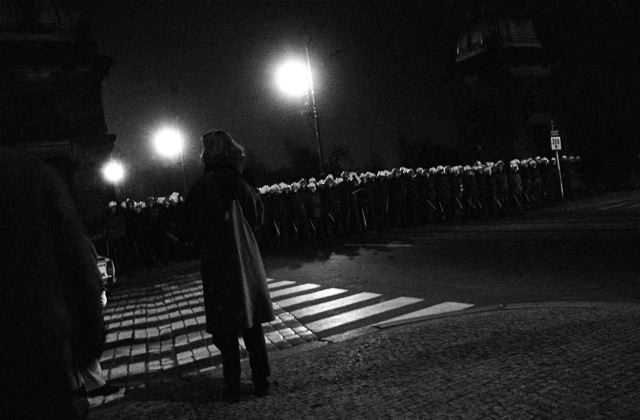 Photo: Peter Župník
The sixth edition of Central European Forum – a unique international discussion project that brings together leading political and cultural thinkers – will take place in Bratislava, at Studio L+S, from 14 to 17 November 2014, to commemorate the 25th anniversary of the Velvet Revolution.
Central European Forum is a space for public discussion, dialogue and formulation of the most pressing political and social issues of the day. The headline theme of this year's Forum – a thread running through all the panels – "Us and Them" – speaks to the entrenched polarisation within our societies. The problem concerns Central and Eastern Europe as well as countries further west. Twenty-five years after gaining political and economic freedom, our societies are divided, to the point that there is seemingly nothing to hold them together. Our institutions, our public services – the entirety of our public life – seem paralysed by this division. The aim of this year's Central European Forum is to dissect the nature and implications of this phenomenon, also in the context of the crisis in Ukraine, and the emergence of a more aggressive Russia.
Speakers at this year's Forum will include, among others, influential political scientist Ivan Krastev, renowned Ukrainian author Oksana Zabuzhko, acclaimed German writer Ingo Schulze, Hungarian historian and author György Dalos, Czech philosopher Václav Bělohradský, Polish writer Jacek Dehnel, American political scientist Mitchell Cohen, Serbian playwright Biljana Srbljanović, the founder of the famous East West Company theatre Haris Pasović, reputable French sociologist Gilles Lipovetsky, diplomat and strategic thinker Sir Robert Francis Cooper, or Fatos Lubonja, a long-time prisoner of conscience and one of the most translated Albanian writers. Many of the panelists will come to Slovakia for the very first time.
On Sunday, November 16, Belarus Free Theatre, prohibited by the Lukashenko regime, will perform their acknowledged play "Discover Love", rated as best performance at Off-Off Broadway by Independent Association of Theatre Bloggers. "They have a stunning vocal and physical command, performing with ease and urgency material that combines both verbatim and physical theatre", writes the most dramatic dramaturge, Mark Ravenhill. The Belarus Free Theatre is the recipient of many international awards and supported by personalities such as Tom Stoppard or Jude Law.
Besides the main program, CEF 2014 will also host an array of side-events: a special discussion panel GLOBSEC at CEF 2014 (in cooperation with the Slovak Atlantic Commission); vernissage and discussion (in cooperation with Institute for Public Affairs and Goethe Institute) about Slovakia's first decade as an EU member; high-school and university debates; or a meeting of 20 European debate houses at the Pisztory Palace, Bratislava.
Panel discussions will take place at Studio L+S, starting at 15:00 on Saturday and Sunday. Monday discussions will kick off at 11:00.
Entry to all discussion panels and side-events is free. Due to the limited capacity of the venue, prior registration will be required.