Central European Forum 2012 got underway on Thursday 15 November 2012, with the opening of Peter Župník's photo exhibition and actress Anna Šišková welcoming the audience and participants to the Astorka / Korzo '90 Theatre. The conference was formally opened by Jáchym Topol, programme director of the Václav Havel Library.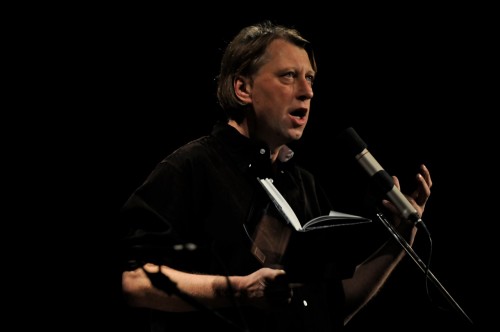 Jáchym Topol. Photo: Peter Župník
Martin M. Šimečka and his five panellists discussed the ways in which lies manifest themselves in their countries – Italy, Ukraine, Czech Republic, Lithuania, UK and Slovakia – as well as some universal mechanisms of lying and their impact on democracy.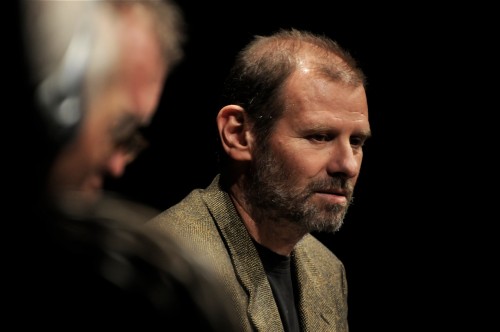 Martin M. Šimečka. Photo: Peter Župník
There used to be a big difference between lies and the truth, stated Italian journalist Giacomo di Girolamo: "Those who spoke the truth were respected, those who lied were condemned. These days politicians use lies to improve their standing." What makes fighting against lies particularly difficult in his native Sicily is the fact that the local dialect does not have a word for truth. "But I don't care if it takes a long time for  the people to get tired of lies. I know I will never be too tired to stop seeking the truth. Everything that I do I do for my own happiness: revealing the truth makes me happy and this happiness is more powerful than lies."
Giacomo di Girolamo. Photo: Peter Župník
"You needs intellectual courage to talk about lies nowadays", said Ukrainian writer Oksana Zabuzhko. "We used to think that democracy was a remedy against lies but this proved to be a naive belief.  New specialists in lying generate a sham reality, and even though nobody – neither the politicians nor the consumers – really believes in this sham, people keep consuming it. They keep watching the show, which is one of the most enigmatic aspects of our present." However, what weakens the power of lies is their lack of creative potential: lies can only produce copies, simulacra of reality. Nevertheless, it is encouraging that "while a huge amount of money and energy has been invested into spreading lies people still have an internal barometer that detects them."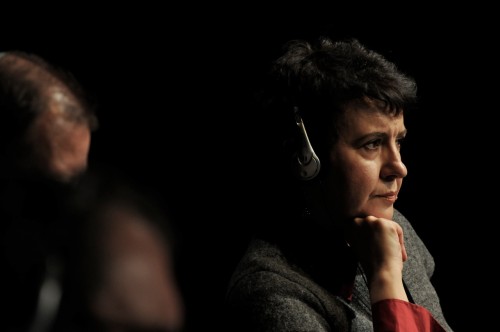 Oksana Zabuzhko. Photo: Peter Župník
Citing the example of an incident in the Prague metro recorded by CCTV cameras, whose edited and full version presented two completely different picture of events, Czech journalist Tomáš Němeček illustrated the workings of lies and manipulation. Although it is sometimes difficult to establish the truth, "lying is difficult and it is much easier to tell the truth. As Hercule Poirot said: "'If you let people talk for long enough, eventually they will tell the truth.'"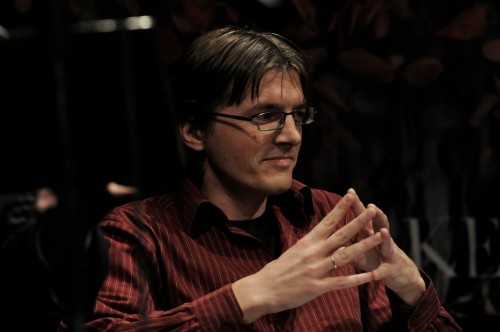 Tomáš Němeček. Photo: Peter Župník
Lithuanian philosopher Leonidas Donskis revisited the period after 1989 when many people in Eastern Europe and the former Soviet Union hoped that truth would prevail. However, "what started as a drama ended up as a farce. Everyone has something to hide and lies have become a survival strategy for politicians who realized they had to rewrite their biographies."  Crowds want to be deceived but "the truth doesn't exist in isolation, whereas lies isolate. Democracy is the only system  of government that admits its own imperfection. Today the greatest danger for democracy is not tyranny but the distortion of democracy, its falsification and travesty from within."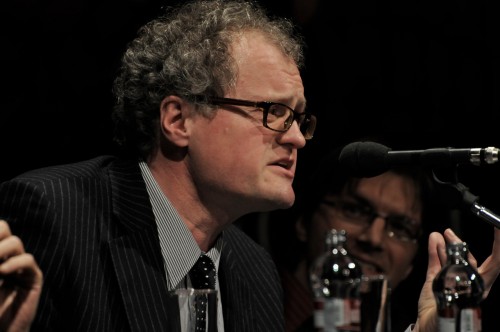 Leonidas Donskis. Photo: Peter Župník
Polish-born British sociologist Zygmunt Bauman went further into the past, recalling the time when people believed that honesty was good for business: businessmen believed their customers would reward their honesty by coming back for more. Morality and reason used to point in the same direction but that is no longer the case: "Our ability to withstand lies has weakened considerably since morality has lost its most powerful ally – rationality. We used to say that lies have short legs but with time short legs have ceased to be a disadvantage. Lies have become the rule, truth is now the exception."  Nevertheless, people like Václav Havel have shown that we must not give us hope, the key feature of humanity: "Even if you believe that lies are invincible it is in no way an argument against trying to defeat then."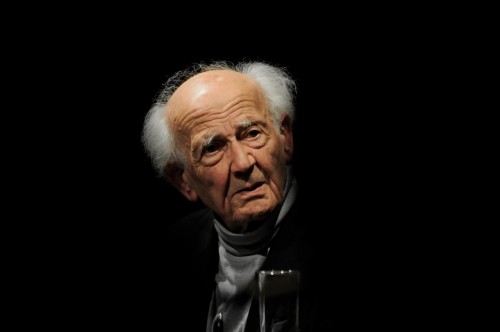 Zygmunt Bauman. Photo: Peter Župník