Milena Bartlová, Anna Daučíková, Anna Ermolayeva, Bertrand Ogilvie and Alison Klayman engaged in a lively discussion on the relationship between power and free artistic impression, as well as on love and censorship inspired by the Pussy Riot trial and chaired by Michal Hvorecký.
Michal Hvorecký. Photo: Peter Župník
Giving the background her recent article on Pussy Riot, Czech art historian Milena Bartlová explained it had upset her that their case was being compared to the Plastic People of the Universe trial held in the 1970s communist Czechoslovakia: "This comparison domesticates the Russian protest and thus diminishes its power." The only thing the two cases had in common was how few people in their respective countries knew about them. "However, the Pussy Riot protest is much more forceful than the Czech underground, which was about artistic freedom while the nature of the Russian women's protest is strongly feminist and antireligious and their art is almost a matter of life and death." She added that "art, specifically visual art is a great tool of protest because it presents what society is silent about while being ambiguous at the same time."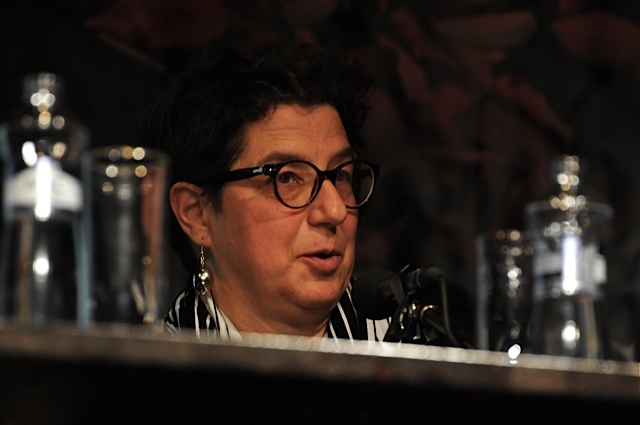 Milena Bartlová. Photo: Peter Župník
Slovak artist and art academy teacher Anna Daučíková also regards the Pussy Riot protest as authentic art. "It is great art and a great project, and if it was the work of my students I would give them an A." The high IQ of the Pussy Riot protest both in terms of form and content consists in the choice of venue ("they have entered the iconostasis and a ritual with their own iconostasis and ritual") as well as in the actual lyrics, which "are critical of the state of affairs whereby the woman's role in church is present only through the Mother of God figure and of the cooperation between the church and power as well as of the fact that the only supernatural forces and ritual can get rid of Putin." Anna Daučíková, who lived in Moscow in the 1980s, recalls this period as a time when, paradoxically, she felt freer there than she had in Prague or Bratislava. "Back at home we blamed everything on the occupiers, in Russia we had only ourselves to blame and that imbued our stance with purity."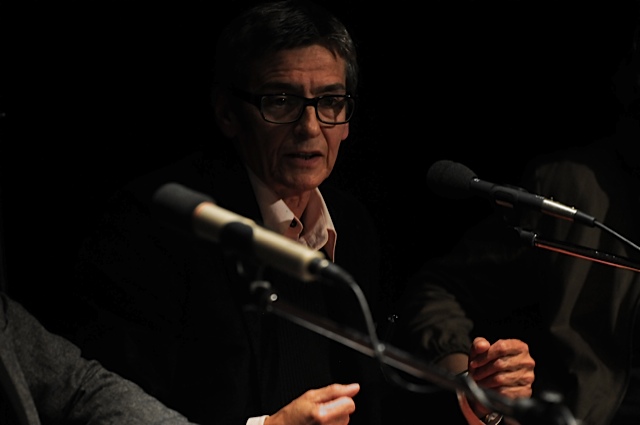 Anna Daučíková. Photo: Peter Župník
Russian video artist Anna Ermolayeva placed the Pussy Riot action in the context of the protest movement that had emerged in Russia over the past year. Initially only a few hundred people took part, following the rigged election and the Putin/Medvedev switch thousands of people went out into the streets. "When I first saw it, I cried for joy", said Anna Ermolayeva who now lives in Austria but has participated in, and film the protests. She used an extract from her most recent video to showcase ingenious new forms of protest such as the "toy rally" in Barnaul. "It was a micro-protest that achieved maximum effect using minimal means." Admittedly, as someone living abroad she is in a privileged position compared to Russian and can afford to be more vocal. "Politicians are restricted by the framework of politics but the artist plays the role of a court jester." She has tried to exert a direct influence on events in Russia; for example, most recently she has been trying to organize press accreditation for students protesting outside Russian courtrooms.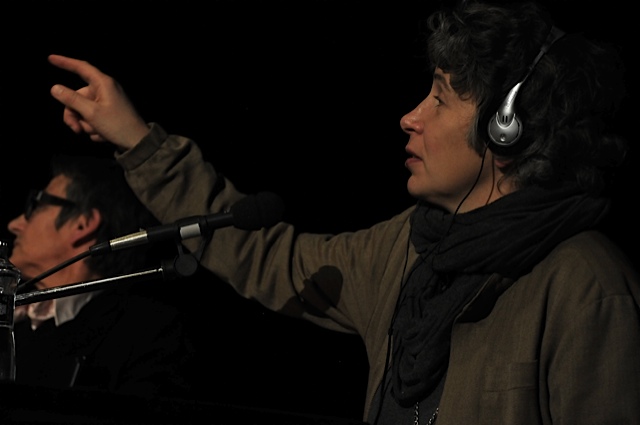 Anna Jermolajeva. Photo: Peter Župník
US documentary film maker Alison Klayman pointed to a number of similarities between the tools used by Pussy Riot and the politically engaged art of Chinese artist Ai Wei Wei, the subject of her feature-length documentary: "Both use conscious provocation, engage with international media and invite domestic criticism." In her film she tried to show Ai Wei Wei's artistic and activist persona and show the contrast between a media star and a politically committed citizen. "For him communication is key, and he tries to involve others in it even though most people in China have never heard of him. He is talking less of political reform than about honouring an individual's life."  However, the regime regards him as enough of a threat, they would not erase every mention of him on the Internet if he weren't hot. "And although the censorship is effective, it does not mean that his message is not relevant."
Alison Klayman. Photo: Peter Župník
French philosopher Bertrand Ogilvie moved from Pussy Riot to the more general issue of the relationship between art, politics and their common impact. "What we are basically talking about here is art engagé.  However, it is a profound misunderstanding to relate art to knowledge" because, as a matter of fact, artistic activity deviates from the framework defined by knowledge and education toward gesture, action and an act of will. "The basic difference between knowledge and understanding on the one hand and art on the other is that art generates a new world. It enables us to become someone else by providing us with a point of de-identification and that is what makes art political."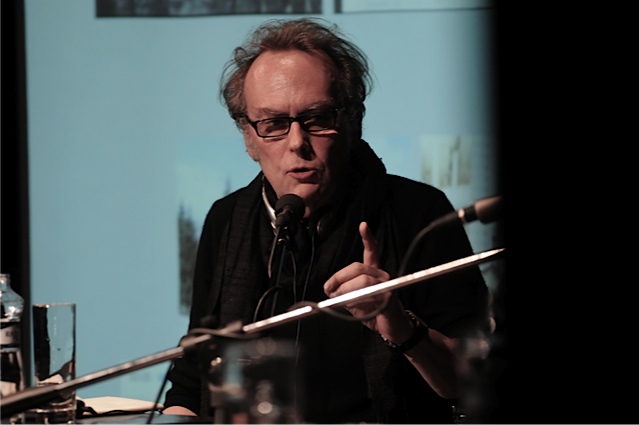 Bertrand Ogilvie. Photo: Peter Župník
For Bertrand Ogilvie the emblem of Central European Forum, Petra Župník's photograph of fallen leaves in the shape of a heart, triggered in Bertrand Ogilvie chain of association between art and politics. The image of leaves introduces an element of sentiment into politics as "the leaves might be blown away by wind or a street sweeper, but they can also cover up traces of blood. The dark pavement surrounding them suggests mercantile relations but paving stones can also be torn out and thrown at the police. All this illustrates the capacity of art to take us into substrata of our consciousness and thus to transform us." Milena Bartlová pointed out that the shape of the leaves are also a reference to the little heart, which Václav Havel used to add to his signature, and to the fact that the conference is taking place in November, on the anniversary of the Velvet Revolution. "However, it also suggests that we have gathered together like a herd that is trying to protect itself."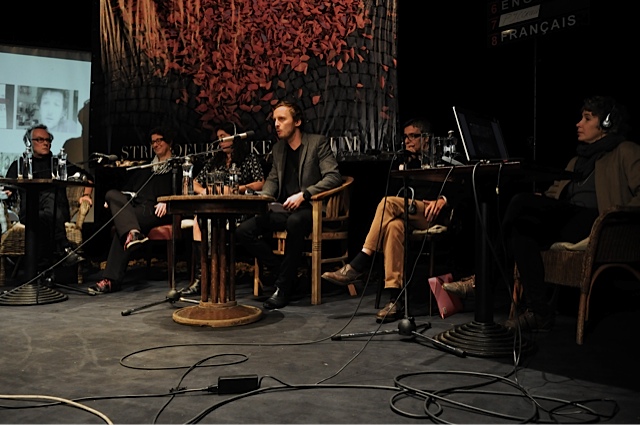 Photo: Peter Župník