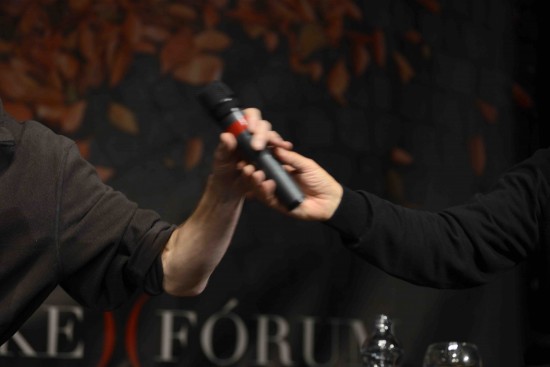 CENTRAL EUROPEAN FORUM 2015
BRATISLAVA
"Freedom of opinion is a farce unless factual information is guaranteed," Hannah Arendt argued in her famous essay Truth and Politics. We still remember how dangerous factual information was deemed to be under dictatorship. Yet recently we have seen that in a democracy it can be just as dangerous if factual information is drowned out by myths, half-truths and disinformation. This is particularly true now that Europe has been plunged into a major crisis.
Over the past few months this part of the world, which celebrated its psychological and physical return to Europe in the autumn 1989, has started sliding back to the margins of Europe for reasons very different from those in the 20th century.  It is not so much the influx of refugees that our region seems to be so worked up about, as the influx of these myths, half-truths and disinformation that poses the real danger.
On the eve of the anniversary of the Velvet Revolution Central European Forum 2015 will provide a platform for a discussion of the causes and possible solutions by writers, sociologists and political scientists from all over Europe as well as the local public. "Slovakia enjoys a special position in our region" Václav Havel said at the close of the first Central European Forum in 2009, "as it is the only country that shares borders with all Central European countries, a position that seems to predestine it to discuss Central Europe and its relationship with other regions, Europe and the world as a whole."
FRIDAY 13 NOVEMBER 2015
17:30  – 18:15
Astorka – Korzo'90 Theatre
Central European Forum Opening
Pavel Tychtl, Europe for Citizens programme, European Commission
Robin Gosejohann, ERSTE Foundation
Egon Gál, philosopher
18:15 – 20:00
Astorka – Korzo'90 Theatre
The problem of memory
Eva Hoffman – Bernhard Schlink – Siobhan Kattago (moderator)
Memory helps shape our lives. Two totalitarian regimes have left an indelible mark on Europe's present, especially in terms of our attitude to refugees, Russia and to our common European home. What does historical memory mean and what is its reverse: is it forgetting or doctored memory?
SATURDAY 14 NOVEMBER 2015
11:00 – 12:00
PISZTORY PALAIS
Povinné čítanie inak (A New Take on Set Books)
Theatre Forum and a performance by Divadlo bez domova (Homeless Theatre)
16:00 – 18:00
Oksana Zabuzhko – Viktor Erofeyev  – Artemy Troitsky – Chris Keulemans (moderator)
Good Putin
How much of Europe and Asia have the countries of the former Soviet Union inherited? And which of these legacies is dominant in the countries of Central Europe?
18:15 – 20:15
Astorka – Korzo'90 Theatre
The New Enlightenment
Pascal Bruckner – Leonidas Donskis – Haris Pašovič – Patrik Ouředník  – Michal Havran (moderator)
Is there something hypocritical about the values of pluralism and tolerance Europe has been built on? Has the time come to rethink the Enlightenment?
20:30 – 21:15
Astorka – Korzo'90 Theatre
The Night Forum with Oksana Zabuzhko.
SUNDAY 15 NOVEMBER 2015
11:00 – 12:30
Astorka – Korzo'90 Theatre, Trezor (Safe), the theatre's studio stage
Salon of the Independents
Jurko Prochasko 
Tony Curzon Price (OpenDemocracy) – Sławomir Sierakowski (Krytyka Polityczna) – Thierry Chervel (Perlentaucher – moderator)
On autonomous thinking, critique of capitalism and arguments of the Kremlin.
16:00 – 18:00
Astorka – Korzo'90 Theatre,
Welcome to Europe!
Shams Asadi – Olumide Popoola – Michal Hvorecký  – Ivan Kratev – Gilles Kepel –  Chris Keulemans (moderator)
In countries that used to form a part of the communist bloc all politicians right across the political spectrum insist: «There is no such thing as a right to migration!» And the main reason: the culture of the migrants is alien to us. Does the co-habitation with Muslim communities entail any real dangers and what might they be?
18:15 – 20:00
Astorka – Korzo'90 Theatre
Visegrad Under Fire
Adam Michnik – Martin C. Putna – Martin M. Šimečka – G. M. Tamás – Jana Starek (moderator)
What's happened to the part of Central Europe known as the Visegrad Four?
20:15 – 22:00
Astorka – Korzo'90 Theatre
Night Forum with Bernhard Schlink