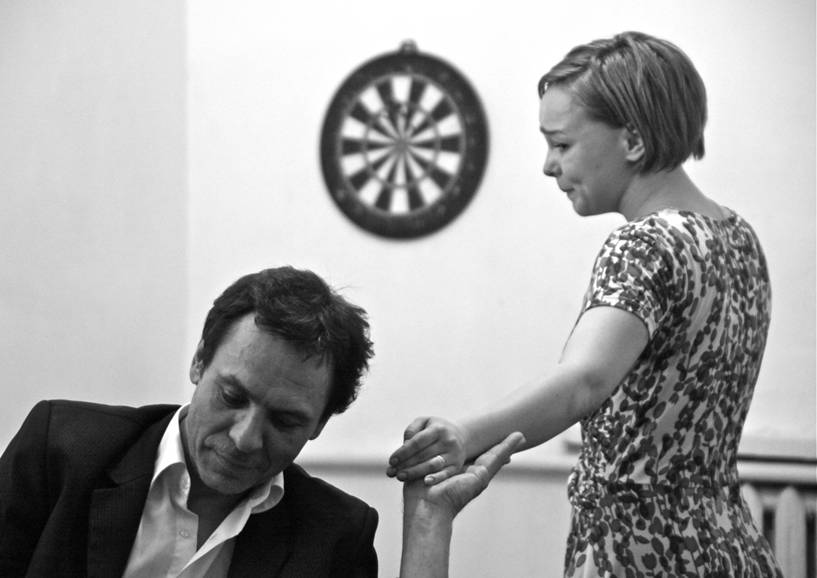 BELARUS FREE THEATRE)(was founded on 30 March 2005 in Belarus by Natalia Kaliada and Nicolai Khalezin, later joined by Vladimir Shcherban. As the company creative leaders they developed the artistic vision and aesthetics of the company which has remained the same throughout its existence. Forced to flee from persecution in Belarus in 2011 they were given political asylum in the UK and created a new section of the company in London, while continuing their work with the permanent ensemble who are still performing underground in Minsk. "They have a stunning vocal and physical command, performing with ease and urgency material that combines both verbatim and physical theatre", said playwright Mark Ravenhill. The theatre has received many international awards and has enjoyed the public support and admiration of key figures such as Tom Stoppard, Harold Pinter and Jude Law.  On 16 November the Belarus Free Theatre will present its play Discover Love, which was named Outstanding Performance of Off-Off Broadway by Independent Association of Theatre Bloggers, New York.
Discover Lovecover LoveNonfiction
Written by Nicolai Khalezin with the participation of Natalia Kaliada
Directed by Nicolai Khalezin
Choreographed by Olga Skvortsova
Performed by Maryna Yurevich, Aleh Sidorchyk/Denis Tarasenko, Pavel Radak-Haradnitski
Original cast includes: Anna Solomianskaya
Musical fusion by DJ Laurel (Laur Biarzhanin)
Assistant Director Svetlana Sugako
Stage Manager Viktoryia Biran
 Producers Natalia Kaliada, Nicolai Khalezin
 Running time 1 hour 10 minutes
Opening night 5 July 2008 – Underground in Belarus
Belarus Free Theatre Production, July 2008; the European Premiere took place at the Kilkenny Arts Festival, August, 2008. Performed in Russian with projected English surtitles.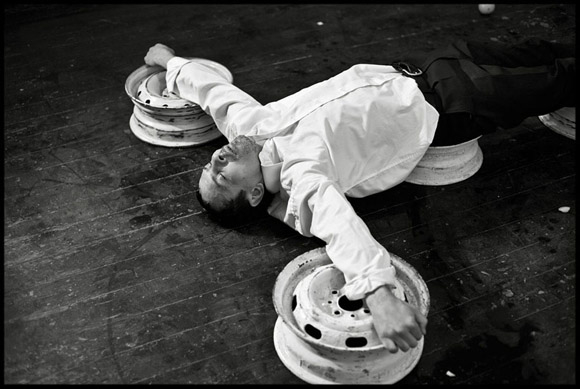 A love story based on real events. It is like a ray of light split into separate color components, where tragedy intermingles with comedy and the tension of reality is beyond comparison with any fiction story. What are the reflections of a woman who finds out about her husband being kidnapped and murdered? First she goes through a shock, then the realization of the tragedy, and then – she thinks about love – the love she didn't manage to experience entirely, about things undone and dreams unrealized, about the words she didn't have time to say and which she already never will hear… This story is based on the real facts from the life of Irina Krasovskaya, whose husband Anatoly was kidnapped and murdered for rendering assistance to the democratic body of Belarus. Collection of materials for the piece "Discover Love" took nine years .In the piece the personal story of Irina Krasovskaya intermingles with those similar ones of the women from Asia and South America and Latin America, whose husbands, wives, mothers or sisters were kidnapped and murdered or still kept in jails by political reasons.  As an example, Ingrid Betancourt's life.  After the public rehearsal of Discover Love the team of BFT got to know that Ingrid Betancourt was freed. It was a miracle for all people who worked at the performance. Each spectator who would see the performance would understand that it could happen in any parts of the world. The Belarus Free Theatre has received the French Republic Human Rights Prize for the idea of this performance and the previous activities of the theatre. It was the first time in a history of the prize when it was give to the theatre.  "Discover Love." …should be seen by everyone who wants confirmation of the continuing relevance and vitality of theater as an art form… Each of these works blooms with a spirit of invention nurtured by limited means and an improvisational readiness to make a stage wherever you find it.
"Discover Love." Darkness is always more intense when you have glimpsed the sun. Much of the force of this invaluable troupe lies in its awareness that the light beyond the dark may be unreachable, but that it exists, tragically tantalizing, nonetheless."
Ben Brantley, The New York Times, April 18, 2011
PHOTO: NICOLAI KHALEZIN and ALLESSANDRO VINCENZI
Belarus Free Theatre
www.belarusfreetheatre.com